Career Talk -- Searching for the Perfect Company to Work for - January 22nd, 2019
You are nearly finished with your degree. You have some idea (based on the previous workshop in this series) about what you want to do with your life - or at least how to explain what Psychology is to recruiters. This workshop will help you to research potential companies that you might want to work for after graduation. With your general idea of what you want to do (i.e., what general industry or what function you would like to take on), the next step is finding the companies that fit your interests. This workshop will provide you with practical, hands-on techniques that are used by recruiters (head-hunters) to fill positions in many different industries. By using these techniques, you will be able to find a number of companies that fit your criteria and begin to narrow your search to the best company for you.
Antoine Fasse is the Co-founder and Senior Partner of RPO Global in Hong Kong. He manages recruiters, trainers and talent development personnel while building new business for the organization. Antoine is Dutch but has lived in Hong Kong since 2011. He has delivered solutions to hundreds of Multinational Corporations, SMEs, and Start-ups in the fields of on-demand training, recruitment, process management, and other core HR services as he works to support the start-up and expansion of their businesses. His passion is around consulting and RPO Global combines training, recruitment, and strategic expertise to provide a one-stop solution through one partner.
Searching for the Perfect Company to Work for
-- by Antoine Fasse, Co-founder and Senior Partner of RPO Global
Date: January 22, 2019 (Tuesday)
Time: 18:30-20:30 hrs
Venue: SB 619
Quota: 40 (priority will be given to final year UG students)
Registration Deadline: 17:30 hrs, January 18, 2019 (Friday)
Snacks will be served! All CUHK PSY students are welcome!
Come and join us!!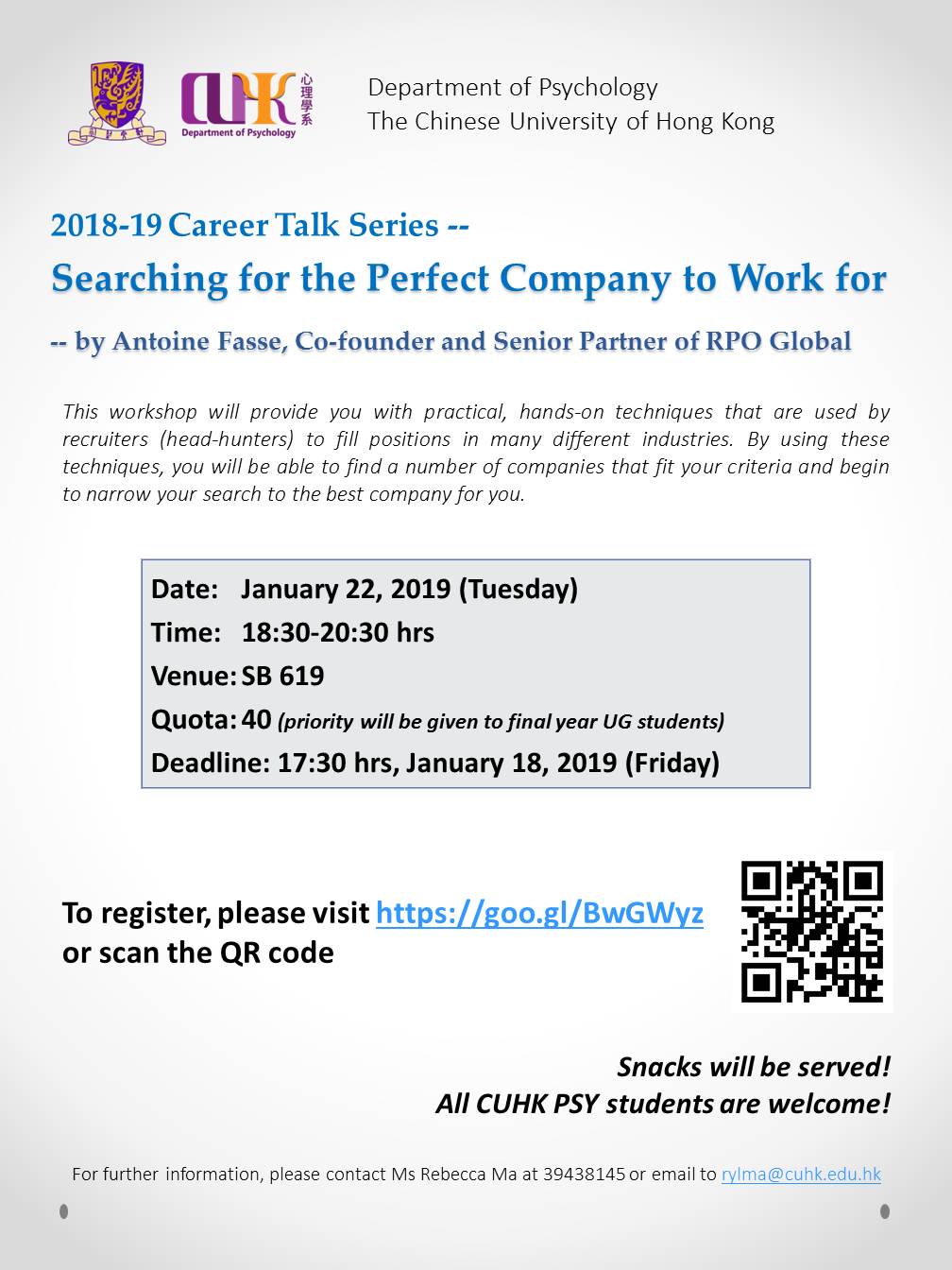 Psy-Connection Award 2018-19
Department Seminar - January 15th, 2019
Academic Exchange 2019-20
1 Dec 2018 Orientation Seminar
1 Dec 2018 Orientation Seminar
5 Nov 2018 Orientation Seminar - M.Phil-PhD in IO Psy
Department Seminar - November 13, 2018
Department Seminar - October 29th, 2018
Mentorship Programme 2018-19