Centre for Developmental Psychology
The Centre for Developmental Psychology aims to facilitate basic and applied research on both social and cognitive development with infants, children, and adolescents, as well as adults. The Centre houses separate spaces for testing and observations, specially designed to be child-friendly. A pleasant play environment invites children to explore and gives parents a relaxing atmosphere in which everyone can feel comfortable. This, combined with sophisticated observational and recording equipment, offers researchers an ideal place in which to carry out a variety of developmental research studies.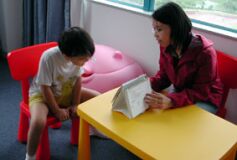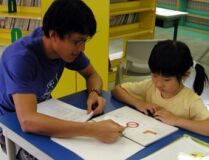 Assessments in the Developmental Centre.
The Developmental Centre provides an excellent place for assessing children's abilities and observing children's behavior.
Research
General research objectives
Conducting basic behavioral, cognitive, and neuropsychological research on infants, children, and adolescents, as well as adults
Applying developmental research to educational problems and family systems
Assessing a wide range of cognitive, social, and behavioral skills in infancy, childhood, and adolescence
Forming partnerships with institutions in Hong Kong, mainland China, and overseas to promote cross-cultural and cross-institutional developmental research.
Research activities currently underway
The Joys of Parent-child reading
Members
Prof. Catherine A. McBride